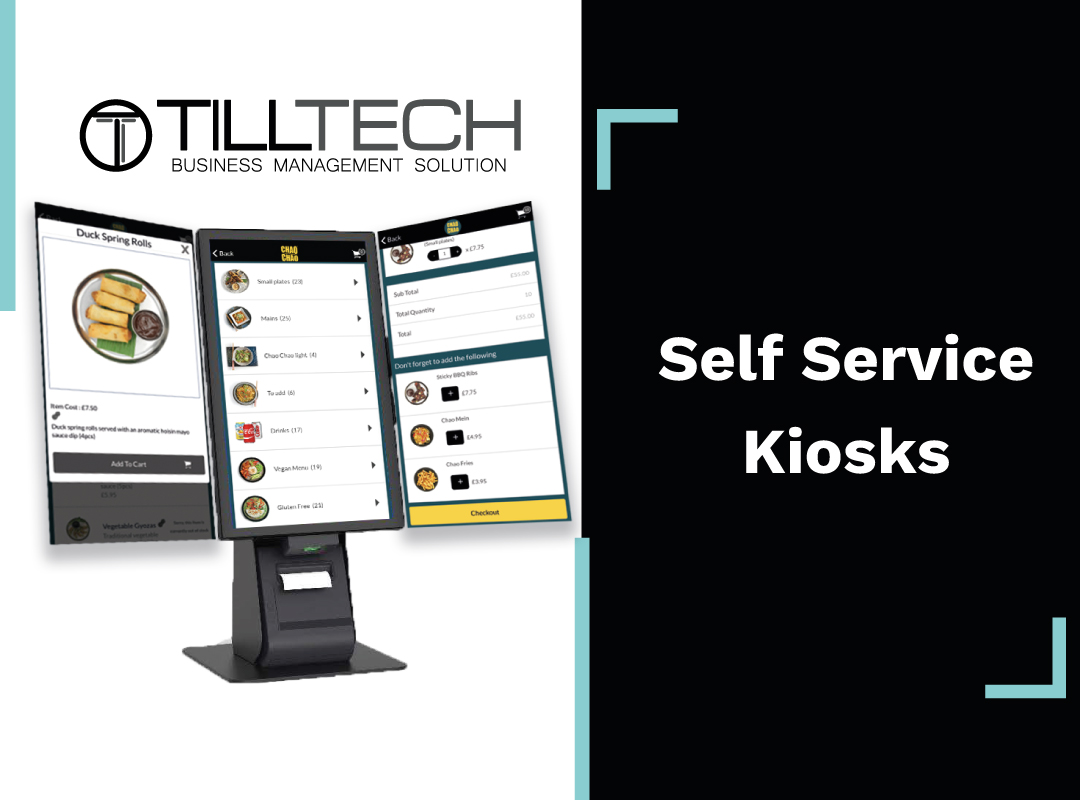 01 November
If you walked into the busiest of McDonald's 10 years ago, you would have been greeted by a row of 10 or more staff waiting to take your order. Fast-forward to today and you will be hard pushed to see anyone behind the till.
Why? Self Service Kiosks
There are a number of benefits and not just the obvious ones that come to mind in terms of efficiencies, but Self Service Kiosks also help to improve the customer experience. Let's take a look at the benefits and why independents especially, should be looking at Self Service Kiosks
Benefits to the customer
Calmer atmosphere:
When you have staff and customers there is talking, and with this, an increase in noise levels. Now with 2 or 3 staff this isn't an issue and can add to the atmosphere. But if you're busy or have a larger premises with many customers and staff, your staff are having to almost shout to communicate with customers and colleagues. This means the environment can be quite tense and customers are here to relax and enjoy their drink or food. Staff running around and shouting doesn't allow customers to feel relaxed and comfortable.
Kiosks remove the need for staff taking orders, and the rush to take as many orders as possible, resulting in a much calmer and enjoyable environment. Customers might actually be able to hear that music you are playing.
Reduced Queues:
Not only are queues reduced they are clearly designated by the kiosk. and by increasing kiosks we can further reduce the queues. Plus we can be flexible with their positioning, enabling us to control the flow of customers. Due to the kiosk only having one job it is always available to serve customers and is not being tasked with other jobs. This also helps to reduce customer frustration.
Quicker Service
With the correct product options, customers should be able to to easily and quickly amend their meal to what they want, without having to ask a number of questions and clarifications back and forth with your staff. Allergens can even be shown on each product ensuring your customers always have the most up to date information about your menu, helping to make decisions faster.
Benefits of Self Service Kiosk to operations?
Cost
Self Service Kiosks reduce staff overheads significantly. The ongoing costs are electricity. And although electricity isn't exactly cheap right now, it is still considerably cheaper than the hourly wage of a member of staff. It is still only a few pence an hour to run a self service kiosk.
Upfront costs can be anywhere from £3,000 to £7,000 for a self service kiosk, but again, this cost is considerably cheaper than a member of staffs yearly wage and the kiosk performs the same serving functions as a staff member and helps to increase average order value.
Increase Average Order Value
Customers feel less pressured, like with online ordering they are more likely to order more as they can fully browse the menu. Self self kiosks can also provide upsell opportunities, depending on the sale type or product selected, plus they can also provide personalised offers based on previous order history. All these opportunities combine to help increase your average order value.
Error Reduction
Error reduction not only reduces customer and staff stress, but this is also a money saver and increase in efficiency to both front of house and your kitchen. Less errors, means less complaints, this results in happier customers and staff, and means you are not recooking or preparing orders taking up valuable capacity of your kitchen.
No hiring process or training required
Hiring, training and retaining staff is not only costly, it is time consuming and stressful. That time could be used for other areas of the business but good recruitment and training is essential to the success of any business. Self service kiosks can remove a large chunk of the hiring required and as that kiosk is bolted to the floor it's not quitting anytime soon.
Less abuse of staff:
This shouldn't happen, but it does unfortunately. But with kiosks these situations are dramatically reduced. Customers expect to be served at the earliest opportunity, however your staff might have multiple responsibilities and tasks.
Customers can become frustrated when they can see staff completing tasks that are not serving them. They can also be incensed by staff mistakes. You can now rule that out happening again with kiosks as the customer is instantly served. Any mistake is also theirs and not your staffs
Business Planning:
Self Service Kiosks provide you with the ability to plan more effectively for the future. Your staff rotas are less complicated, your self service kiosk will not find another job or feel ill or have a bad day. They are always there to take order from customers, adhering to your processes, without error, every day and at all times. Being short staffed on cashiers and front of house can be a thing of the past.
Staff who used to serve are now able to focus on production, increasing your kitchen capacity or allowing you to reduce the amount of staff required to operate.
---
Why has it taken until now, if the benefits are so obvious?
Technology used to enhance existing processes and interactions. Now technology is not only able to enhance, but replace entire human to human reaction interactions. The user interface of apps is now much more pleasant and easier to use than 10 years ago and the technologies reliability and capabilities have dramatically advanced.
How does a Kiosk work and get updated?
Go with a system like Till Tech and it will update automatically from your EPOS and central product management. You never have to worry about having the incorrect prices or products on your self service kiosk. It is cloud based so no software to install and they can be reported alongside all of your sales channels.
Self Service kiosks can be placed almost anywhere and there are a number of design and mounting options available.
Objections to Self Service Kiosks
The main objection to self service kiosks is that the personal touch is lost. However this could not be further from the truth. With the right system your self service kiosk can know who is in front of them, greet them in a friendly manner every time, on every visit, and provide personalised offers and rewards based on that customers order history, that your staff simply could not do. This personalisation is effective personalisation too and can significantly help to increase your average order values as well as customer loyalty.
If you are considering a self service kiosk and need some advice, get in touch with TillTech and see how we can help you achieve your goals.
---
Our Self-service kiosk providing perfect self-ordering experience to customers while optimizing business's performance and efficiency.
PRODUCT ID: 191
(10 Week Lead Time)
FIND OUT MORE