Improve your table service with tablets?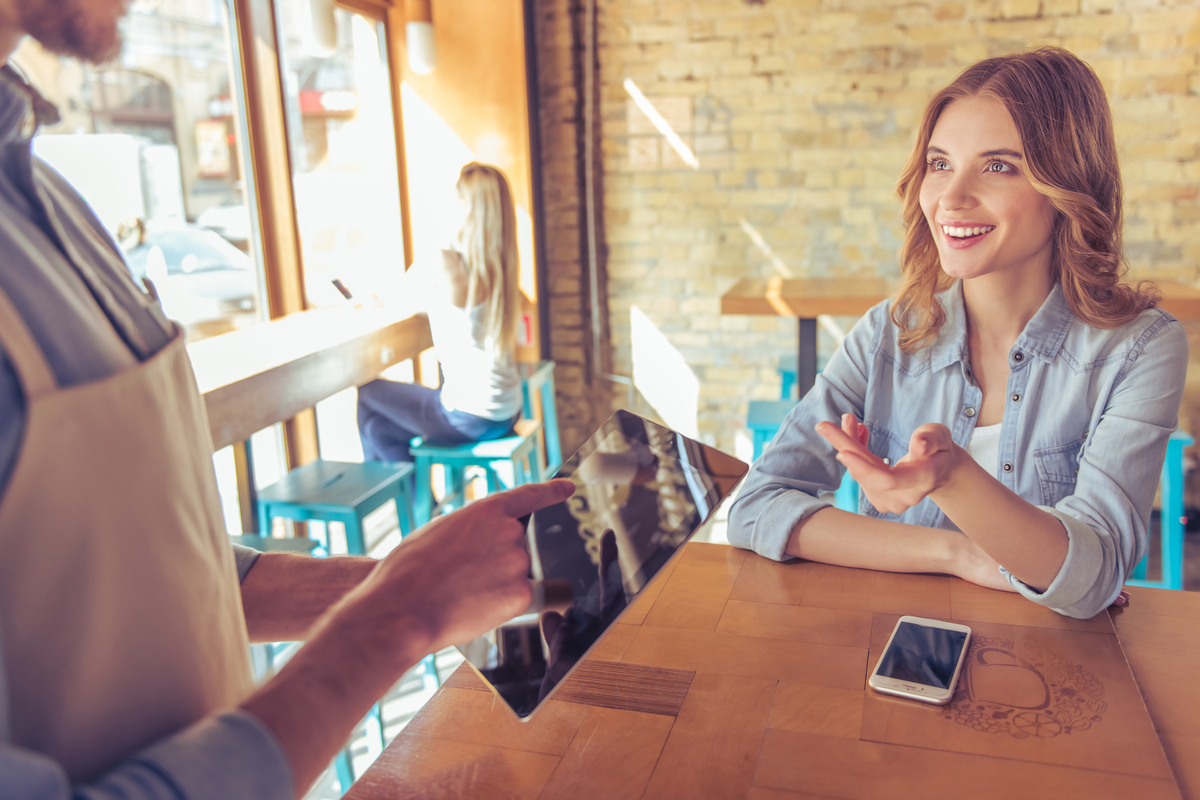 30 September
Firstly let's look at some of the common issues when using pen and paper for table service:
Kitchen staff cannot read handwriting
The order is not correctly taken or items are forgotten
Staff do not ask the correct questions or upsell
Going back and forth to the kitchen giving orders
Customers cannot find staff and ask questions easily
No central point of information
10-15km per night of walking for staff
These are just some of the challenges your front-of-house staff are facing. These challenges can cause friction between staff, bottlenecks in your service, increase staff turnover, and cause situations that hinder your ability to deliver high levels of customer service.
Let's explore how tablets for your front of house staff can eliminate the above problems
Let's start with a typical table service process:
1. Write down the order
2. Take the order to the EPOS
3. Enter the Order into the Epos screen
4. Print the order
5. Take the order ticket to the kitchen
6. Then walk back out to the dining area
There are 3 main issues with this process, amongst many others:
Slow Service

By front of house walking to the epos and then to the kitchen to raise an order, your service is being slowed, bottlenecks are occurring and your customers are not being attended to. Your staff should not be spending most of their evening walking.

Customer Service

Customers do not have someone on hand to ask any questions or take any additions to their order. Whilst your staff are in the kitchen talking to chefs and colleagues and trying to ensure they are on top of service your customers are being neglected and you are losing money.

Fatigue

Walking 10 to 15km per night can become very tiring very quickly and can increase stress, which in turn increases staff turnover. By having tablets, we can almost halve this figure, meaning your staff are refreshed, ready to deliver high levels of service and are able to focus on the task at hand and the customers.
By having a tablet, your front-of-house staff can process the order and immediately send it to the correct kitchen station without having to leave the service area. This reduces errors in ordering and gets the order to the kitchen immediately.
Staff can immediately move on to the next customer and be on hand to answer any questions your customers have and process any additions to their order. As with online shopping, we want to remove any barriers your customers face to buying from you.
Speed of service is also one of the customers' biggest factors when deciding if to revisit a restaurant or leaving a positive review and can do wonders to your google and TripAdvisor ratings.
---
Reduce Mistakes
Without digital systems, orders get forgotten (mainly drinks), orders are incorrectly written down, or the chefs cannot read the handwriting and produce an incorrect dish. Take the guesswork out of your restaurant.
By having tablets, there is now no excuse for missing an item from an order, forgetting to ask if the customer wants extras, or forgetting that drink order.
When selecting a product, your staff are presented with the questions they need to ask automatically and the order is then immediately sent to the correct kitchen station or bar.
By having digital systems, you also significantly reduce the wrong dish being produced incorrectly by mistakes happening during the transference of systems.
There is no handwriting to worry about and the orders are clear to your front of house and your kitchen.
---
Central Point of Information
When using tablets, all your staff have visibility of the orders that are coming through. On busy nights especially this is critical for your team, to work as a team.
Having a central point of information enables all staff to keep their eyes on what is happening in the restaurant and allows management to quickly spot and address any bottlenecks or issues.
Staff and management can in real time:
See the live status of an order
See how long ago the order was sent to the kitchen
See when the order was started
Be alerted when it is ready to be served
Tickets/Orders cannot get lost or mixed up with other orders. Tablets help to ensure you are on top of everything in your restaurant.
---
Customer Experience
Your customers are here to enjoy their evening out in a relaxed environment, where they can enjoy your products. Staff running around, rushed off their feet, stressed, increases the stress of your customers too. Relaxed, organized staff will relax your customers and allow them to focus on enjoying their evening.
Tablets enable your staff to be more attentive and spend more time in the dining area. This means customers can call over your staff easily and order extras such as extra drinks and sides, helping to increase your customers' average spend.
Plus your staff will be much more refreshed and energized, meaning they are more likely to be engaged in the service they deliver to your customers.
---
Connect To Online Booking
Your tablets for table management should be directly connected to your online booking system. This organizes your staff and customers for you. No confusion over what table the customer has been booked on and you can check-in and start taking their order in 2 clicks.
Your staff can efficiently plan where to seat walk-in customers by having 1 overview of what tables are open and what tables have a booking soon.
This all helps to keep you in control, prevents confusion, and ensures you are always professional in front of customers.
---
How Does Till Tech Help You Implement Tablet Table Management
Our online booking system is directly linked to your table management and epos. Managing tables has never been easier, no need to keep a separate diary or software, you can have all the tools in one place.
Till Tech takes care of the entire process from booking to payment.