The Importance of Mobile Apps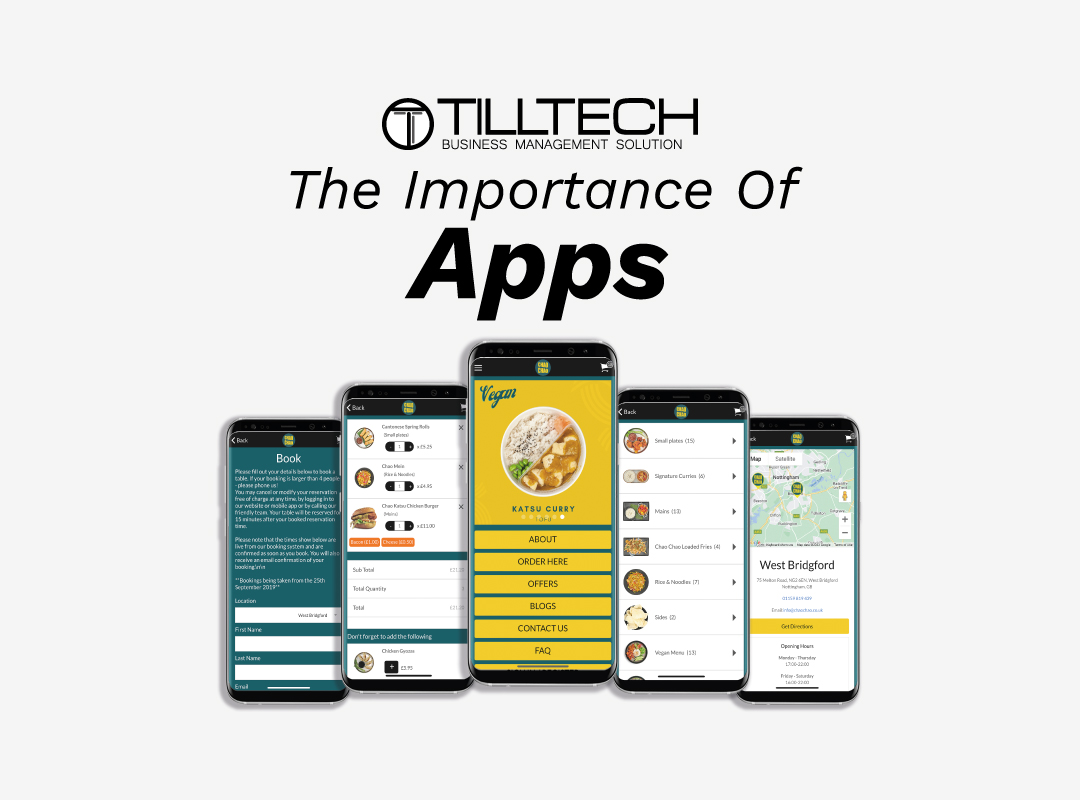 27 October
The Importance of Mobile Apps
Mobile apps are now part of the norm, however developing and creating an app, that actually works and is effective is a long and expensive process.
Luckily with TillTech all our customers already have their own app. In this blog, we take a look at the reasons why Mobile Apps are important and how to encourage customer sign-ups.
Increasingly we are seeing the big name brands now heavily pushing their mobile apps, below we take a look at the reasons why and how you can further encourage usage of your mobile app.
Why are mobile Apps important?
Increase Average Order Value
Customers who use your app tend to spend more. This is the same for online ordering through your website. Customers have time to browse your menu, are under no pressure, and with features such as product options, we can upsell and encourage customers to upgrade their orders and also have a dedicated promotion page.
Reduce Errors
As customers are making the orders and making the selection themselves, there is much less chance for error. Phone orders can cause errors with bad lines, staff mishearing or customers misunderstanding an offer. All that is made much clearer when a customer orders through your app.
Brand awareness and Loyalty
Having your app on customers' phones, means they are more likely to go straight to your app when they want to order. It is also easier and quicker to find than your website.
Re-Ordering is Easy
Customers tend to order the same items each time they visit you. Your mobile app means they can add a previous order items to their basket with 1 click in the app. This makes it easier for your customer to order and means they are more likely to order more frequently.
Marketing
Mobile apps provide a free marketing opportunity with in-app notifications. Straight to customers' phones and completely free, with much more personalisation than an SMS
---
How to get customers to sign up
If customers don't know about your app, they can't download it. We take a look at a few ways you can market your app and the benefits to your customers.
In-Store Marketing
In store marketing provides one of the best chances for customers to sign up and there are a number of methods we can utilise
Rear Display Screens of your EPOS
Table Talkers
Leaflets
Order Ready Screens
Menus
Links to app on social media channels and below all posts
On any marketing material you can use QR codes to make it easy for customers to download your app.
Staff Training
This is one of the most effective methods. On the phone or instore orders reminding each and every customer of your app, offers and why they should download the app. Do they earn loyalty points or is there a discount when ordering through the app for the first time?
This is something you have to implement, monitor and coach over time to ensure your staff are delivering the message you want them to. It's why MacDonald's ask if you want to go large, and why on every sale Tesco cashiers ask if you have a Clubcard. It is drilled into staff to prompt the customer and is something every business should be doing and can be doing to promote other offerings.
Incentivise
The most effective method is to incentivise customers. Incentivising customers can be applied to all aspects of your restaurant, from encouraging your customer to download your app, or leave a review.
Offer a percentage discount when using the app
Offer a free item when using mobile app
Remind customers they can earn loyalty points
Secret Menus - exclusively to app users
This can be done in TillTech automatically, or alternatively you can setup promo codes to be used.
Implementing these tips will help to increase the take up and usage of your app and help you to offer services, methods of purchase and marketing your competitors cannot.
---