Pioneering Karaoke Experience: A Successful Implementation of Our EPOS Solution at Akasaka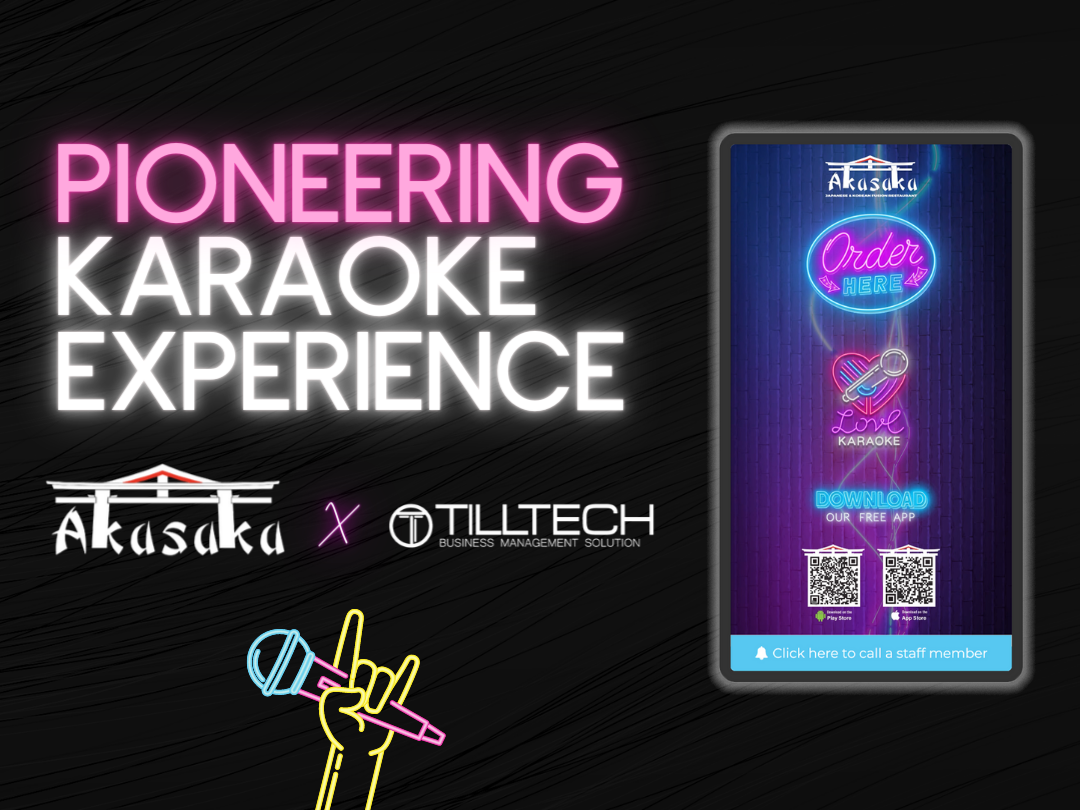 02 May
Pioneering Karaoke Experience: A Successful Implementation of Our EPOS Solution at Akasaka
---
In an era where technology reigns supreme, businesses must adapt quickly to enhance their customer experiences and streamline their operations. As a leading provider of cutting-edge EPOS (Electronic Point of Sale) solutions, we've had the privilege of assisting many establishments in their technological journey. Recently, we embarked on a successful collaboration with Akasaka, a popular restaurant and karaoke bar.
The Challenge: Enhancing the Karaoke Experience
Akasaka presented a unique challenge. Their vision was to create an efficient, immersive karaoke experience where customers could order food and drinks, and call staff without needing to leave their rooms. With our expertise in EPOS technology, we were ready to transform this vision into reality.
The Solution: Custom EPOS Kiosks
Our answer was bespoke EPOS kiosks for each of Akasaka's karaoke rooms. These touchscreen kiosks were designed to not only be user-friendly but to fully integrate with Akasaka's kitchen and service systems.
Direct-to-Kitchen Ordering
One of the essential features of these kiosks is the ability to send orders directly to the kitchen. When a customer places an order, the details are instantly transmitted via the integrated EPOS system to the kitchen staff. This process eliminates manual order slips and reduces human error, leading to faster and more accurate orders.
Staff Assistance at the Touch of a Button
Recognizing that guests may need assistance beyond food and drink orders, we included a feature that allows users to electronically call a staff member. With a single tap, a request is relayed to the nearest available EPOS tablet/till, enabling prompt service and ensuring customer satisfaction.
The Outcome: A Resounding Success
The impact of the EPOS kiosks has been profound. Customers have lauded the convenience and control they have over their orders and service requests, which in turn, has led to an increase in customer satisfaction. For Akasaka, operational efficiency has improved, with order processing time significantly reduced and fewer errors being reported.
Moreover, our EPOS solution has added a level of hygiene security by minimising human contact in the food ordering process - a paramount factor in the post-COVID era.
To get a deeper insight into the EPOS kiosk solution, be sure to check out our comprehensive article on the new kiosk solution.
A Step Towards the Future
The successful implementation of our EPOS kiosks at Akasaka stands as a testament to our commitment to providing tailored, innovative solutions. It's a fantastic example of how technology can enhance the customer experience, improve operational efficiency, and drive business success.
Our journey with Akasaka is just one stop in our mission to revolutionise the hospitality industry through technology. We're eager to continue pushing boundaries and delivering solutions that shape the future of dining and entertainment experiences.
Leveraging Till Tech's Hardware and Software
Our partnership with Akasaka is a comprehensive one, comprising an extensive range of hardware and software solutions tailored to the demands of their bustling establishment.
Superior Software Solutions
Our software capabilities include innovative features that encompass every aspect of the restaurant's operations:
Bookings Management: Our solution provides efficient table and karaoke room booking systems that make reservations a breeze.
Stock Control: Real-time tracking and management of inventory ensures optimal stock levels at all times.
Staff Management: Staff scheduling, time tracking, and performance analysis are made effortless.
Ordering Capabilities: We facilitate table, online, and kiosk ordering to offer versatile options for customers.
Tablet POS: Streamlined point-of-sale operations on tablets enhance customer service and checkout efficiency.
Kitchen Coordination: Digital kitchen screens and ticketing systems ensure seamless communication between the front of house and the kitchen.
Delivery Optimization: Our driver management software ensures timely and efficient deliveries.
Marketing Tools: From WiFi marketing and email marketing to push notifications, we provide comprehensive tools to attract and retain customers.
Giftcards and Deposits: Our system handles gift card sales and redemptions, as well as secures deposits for reservations or large orders.
Robust Hardware Integration
To support these software capabilities, we have provided Akasaka with a robust array of hardware:
5x tablets to handle customer service and point-of-sale operations
2x kiosks to facilitate in-room ordering and service requests
2x tills for efficient front-of-house operations
6x kitchen screens for real-time communication and order tracking
2x receipt printers for timely and clear receipts
2x WiFi routers for stable, high-speed internet access
2x display screens for showcasing promotions, menus, or customer information
2x menu boards for easy-to-see, up-to-date menu display
Together, these software and hardware solutions have completely transformed Akasaka's operations, leading to more efficient service, improved customer satisfaction, and a strengthened bottom line. As we continue our journey with Akasaka, we look forward to further enhancing their technology landscape, streamlining their operations, and creating unforgettable experiences for their customers.
Discover our range of solutions and how we can assist your business on our website.