12 Content Marketing Trends to Keep an Eye in 2021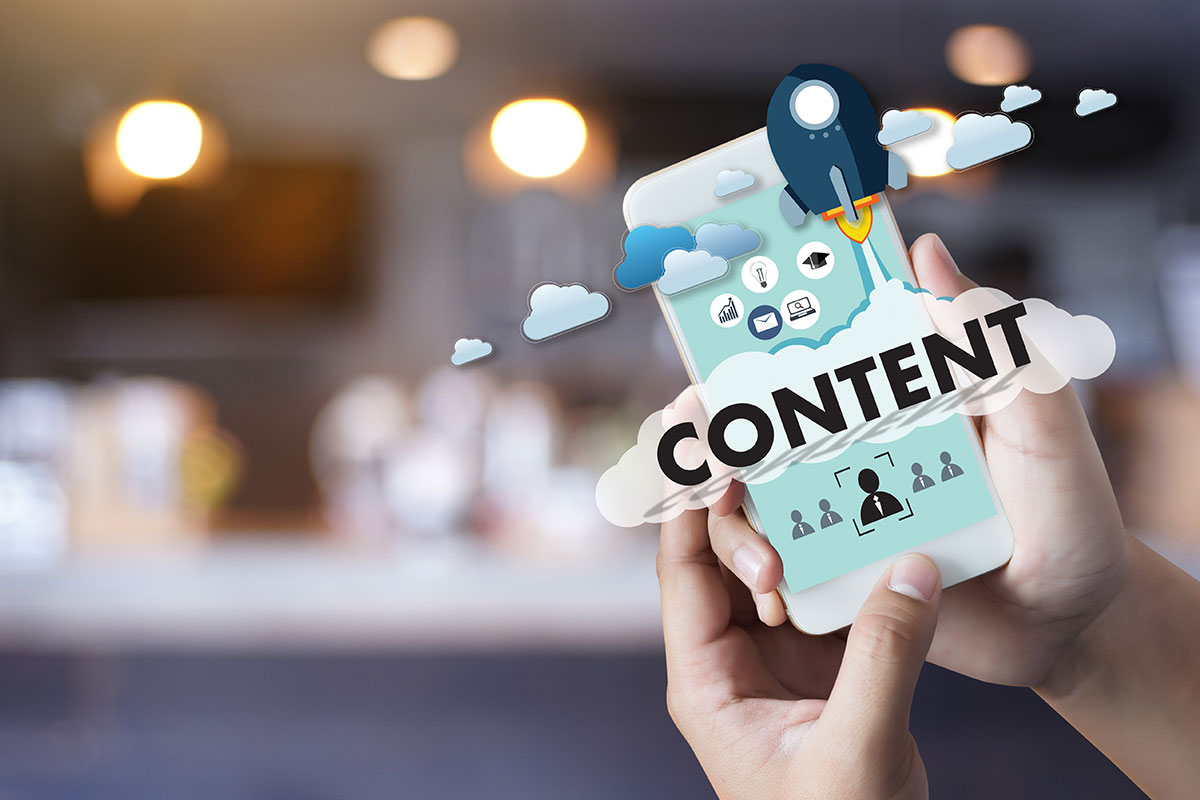 16 January
Content Marketing continues to be a successful way for marketers to increase lead attraction and conversion.
With the Covid pandemic keeping people at home, the surge of new and competitive ways of connecting with the audience has brought the need for richer and more customized experiences.
How can you stay ahead of what's new? What Content Marketing trends in 2021 will follow the changes the previous year brought us? Reading this Content Marketing guide is an excellent way to start.
1. Content Experience
2020 may be known in the future as the year in which digital experiences were the main channel for connections between brands and their audiences.
Without face-to-face activations and with limited possibilities for physical interactions, all businesses had to look at their Digital Marketing plans with a new perspective.
This becomes clear when we see a report produced by Canaccord Genuity, which estimates that spending on digital media will increase almost 15% by 2024, making it account for three-quarters of all investment made in advertisement.
2. Interactive Content
The higher the stimulus to interaction, the easier it becomes to gain your visitor's attention.
In a study, called The Symphony of Connected Interactive Content Marketing, 87% of over 20,000 participating professionals agreed that using interactive rather than static content optimizes the audience experience and keeps them on the page longer. As an example, think of a landing page.
The page's goal is to capture data from potential leads, but this only works if it is appropriately engaging and informative.
In addition to providing their data, users can check consumer reviews, discover brand information and, of course, schedule their service in a fast and practical way.
All of this generates a feeling of greater comfort and security in the individual, which increases the potential for conversion.
Although very useful in guiding the customer's decision making, interactive content offers many other advantages.
3. Visual Content
Today, the inclusion of visual content is essential to optimize the audience's experience and convey the desired information. Why? Human brains are extremely fast in processing images, which makes understanding easier.
4. Visual Search
Visual search is a rising trend, especially among the younger public: a ViSenze study found that 62% of generation Z and millennial consumers prefer visual search capabilities over any other new technology.
5. Augmented Reality
Expanding on visual search, when we talk about the future, we talk about all the new ways content can be delivered to amaze people and make a brand shine among the competition.
AR is one of those technologies that take advantage of our habits — the fact that we all have a smartphone in our pockets — to bring new experiences not possible before.
6. Video Marketing
Following the trend of visual content, video marketing is expanding even more.
In a study specifically aimed at the use of the strategy, HubSpot revealed that, among marketers who currently use video, 95% intend to increase their investment in the coming months.
Among those who do not use it, 59% are leaning to start. There are many reasons for this, all linked to the constant search for improvement in the buyer's journey.
Today, not using videos as a way to attract and engage prospects means giving up opportunities. Just look at this survey published by OptionMonster, which indicates that the annual production of leads can rise by about 66% with the adoption of a video marketing strategy.
Many focus only on YouTube, but the fact is that networks like Facebook and Instagram represent excellent options to engage with this type of content. As we mentioned, it's crucial to understand which channel your buyer persona is on.
Another factor you should keep in mind is the kind of message you want to deliver. For the top of the funnel, videos should be more comprehensive, subtly engaging with the consumer. At the bottom of the pipe, webinars and more specific content are a better idea.
7. Interactive Videos
Once again, the element of interactivity shows itself to be a major trend, this time in the use of video marketing.
Video content, which is already highly engaging, can provide even better results if it is interactive. Merely including a call to action on the screen can multiply your lead generation.
8. Live Experiences
If one kind of interactive experience became a huge hit in 2020, it was the live events on the internet.
The linear growth of that media became exponential: the number of organizations planning a virtual experience doubled this year.
It was sure a forced decision. Artists and brands had to create online versions of their events so they could still promote themselves and reach the public. But what they found out doing it was the power of engagement this kind of interaction brings to the table.
9. Podcasts
Video is indeed becoming the preferred way to consume content online, but what about those moments when you can't look at a screen?
Podcast is a steadily growing media, becoming a great way to convey richer, more detailed information — usually while listeners are doing other activities.
Customized experiences are considered crucial to consumer decisions. According to Epsilon, 80% of buyers prefer brands that offer to personalize their journey, and this goes far beyond the use of first names. They require full customization.
10. Personalization
Think about product selection, channels used, language employed, and much more. All these points should be structured following the characteristics and preferences of the persona.
Thus, besides increasing the success rate of your strategy, you will create stronger and lasting relationships with your target audience.
11. Marketing Automation
We know that customizing communication with your leads is not an easy task, especially if you deal with a large number of them.
That's why it's impossible to talk about customization without mentioning the importance of marketing automation.
Investing in automation software is almost imperative for companies that use segmented strategies. This explains the growth of this industry, which, according to a SharpSpring study, became a $6.1 billion market in 2019. Annual growth of 20% or more is expected.
It's an investment with a high possibility of return. Companies that automate lead management, for example, show a 10% growth in revenue in just six months.
Other than that, all the professionals involved save time and can dedicate themselves to other tasks.
12. Search Engine Optimization
SEO (Search Engine Optimization) techniques remain unchanged as one of the pillars of content marketing, which does not mean it is not evolving.
While the ranking criteria seem to change frequently, something that remains the same is the importance of your company getting a good ranking on the result pages.
You can understand this fact by looking at a MarTech study, which showed that 70-80% of search engine users pay attention only to organic results.
So, what can you do to enhance your SEO? Well, some criteria do not change. The quality and originality of your content, for example, are always being considered for the ranking.
For other sites to link to yours, you must create content that is not only engaging but also adds value to the user experience.
By adopting these content marketing trends, you optimize the customer experience, maximize their engagement, and gain the opportunity to collect valuable data. Interactivity is the key to building profitable and lasting relationships.